Free Online Assessment Creator
If you believe traditional interview methods are no longer efficient in finding the right candidates, you are not alone. An Online Assessment Creator will make it much easier and more intuitive to immediately create the tests you want. Besides, we have a bunch load of pre-defined tests created by Subject Matter Experts SMEs on the most popular topics related to the IT industry.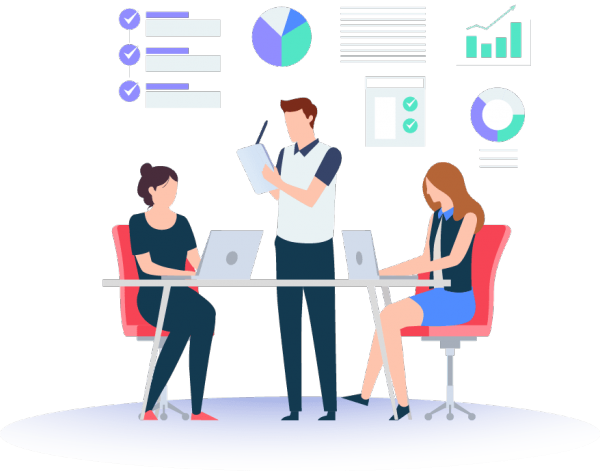 Why Should You Start Using Our Online Assessment Creator?
Are you planning to simplify your interview process? Is it time-consuming to interview a large number of candidates when they apply for the same position? A pre-employment assessment test can save you lots of time and also makes it easier to conduct interviews over the web or even a smartphone.
1. Anyone can Create Tests
Our assessment creator is simple and easy to use. Anyone can create assessments online and share them with clients. The ease of use makes it a reliable tool for the HR team as they can come up with unique questions to shortlist candidates from a large pile of resumes but with quick turnaround times.
2. Material Design UI
The user interface is fantastic and encourages you to use it seamlessly on your computer, laptop, or tablet. The intuitive material design UI is responsive and automatically suits the device screen on which the candidate is attempting the test.
3. Support you can Rely On
The support team works 24/7, ready to solve your queries and help you out in times of need. The best part is, that our support team is supported by our in-house development team to handle any technical issues at once and provide quick solutions. It's all part of the experience that makes SkillRobo stand out as the best free online assessment creator tool.
4. A Time-Saving Solution for Recruiters
Whether you are an IT firm, service provider, or recruitment service provider, shortlisting hundreds of candidates has never been this easy. The questions are all created by technical experts and you can create your interview questions to share them digitally anywhere the candidate likes to take the test.
Tens of pre-defined tests to take as soon as you sign up
Create your assessments with drag and drop interface
Ideal for candidates of all types, technical areas, and years of experience
5. Evaluating with in-depth reports
In the past, tests were all done manually and evaluation took days. Besides, people are bound to make some misinformed decisions because they don't know what a candidate answered days later. However, the online assessment creator is computerized software that keeps track of every question answered and provides detailed reports.
Generate reports in seconds once the candidates complete the test
Compare and contrast how each candidate handled tough questions before making a hiring decision
Detailed reports and analytics simplify the process of recruitment and ensure you can hire even those who were selected months ago but didn't qualify back then
Different Types of Assessments that You Can Create
1. Assessments For HR and Management positions
Easily create questions about HR and management. Check a candidate's capability to handle different scenarios before moving them to the next rounds.
2. Assessments For the developer, QA analyst, and engineering teams
The questions should always be prepared by experts to test technical skills. SkillRobo has a pre-installed questionnaire that you can use and it also allows you to add your tests as required.
3. Assessments For Corporate Compliance
People working in the admin, operations, and compliance teams should be well aware of everything related to corporate compliance. Even a minor mistake could lead to hefty fines. You can create a stringent set of questions to test the candidates before recruiting them for the open position in the compliance team.
4. Assessments For Team skills, aptitude, and attitude testing
A candidate to join a company should not only possess technical skills but also be able to work as a team, contribute to the big picture, and possess an attitude to face challenges. All these can be tested with the kind of tests you like to create using SkillRobo.
SkillRobo – Free Online Assessment Creator
Creating tests to evaluate candidates can never be simpler than this as SkillRobo provides a visual UI builder using which you can upload questions and create the kind of test you like. Besides, it is also easy to share those tests with candidates across the globe on any device of their choice and complete the shortlisting process. It is one great way to change the hiring process by making it more effective and saving time spent in choosing the right candidates.
Click here to Sign Up now!