The dynamics of the employee-employer relationship has changed drastically. From an employee-centered value proposition, it has evolved into a human-centered proposition that treats employees as people rather than workers. According to the latest Gartner report, organizations that deliver successfully on their employee value proposition have shown a 69% decrease in employee turnover rate. There are several examples of employee value propositions followed by organizations that have helped them beat the competition in the market. Read on to understand the what, why, and how of EVP in this blog.
What is the Employee Value Proposition?
Building an exceptional employee value proposition (EVP) is the key to standing out in the competition for hunting top talent. The definition of EVP is the value a company offers to employees in return for the value they add to the organization. EVP, sometimes referred to as an employee value program, is the combination of rewards and benefits that a company offers to its employees to appreciate their performance at work. Not just for existing employees, employee value proposition examples include all that the employer does for attracting and retaining employees.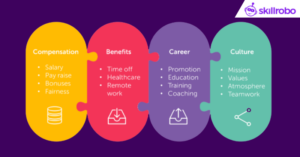 EVP is all about recognizing employee value by matching it through compensation, work-life balance, location, stability, and respect. Essentially, the HR value proposition model must include incentives that not only reward hard work but create a supportive and inclusive work environment for all its employees. Employer value proposition techniques are a good balance of statements, tangible benefits, and intangible culture. Employee value proposition plays a crucial role in promoting the employer brand, some companies use strong EVP techniques, while others use testimonials, quotes, or blog posts that provide prospects a glimpse of life at their organization. An employee brand is a value proposition that is externally marketed to prospective employees.
An EVP is internally focused when it defines what employees get in return for their hard work and dedication, and it is externally focused when it markets the employer brand. Both these assets must be aligned in order to maintain the reputation of the brand. The concept of EVP stems from the concept of a Unique Value Proposition, which is nothing but the value the company provides to its customers. It is the UVP that differentiates your brand from competitors. In similar terms, the employee value proposition by definition is the unique value the company offers to its employees and prospective employees. The right approach towards EVP is to shift the focus from compensation to other things like employee career development paths, internal rewards and recognitions, and community initiatives.
Need for EVP in Human Resource Management
Progressive organizations looking to retain and attract top talent are sure to include employee value propositions in their HR strategy. The EVP strategy is what sets your company apart from the competition in terms of hiring talented employees. Employee value proposition is much more than just a marketing exercise, it helps reduce employee turnover, improves employee engagement and experience, improves profits, and helps build an inclusive work environment.
Having an effective EVP enables organizations to attract new employees whose goals and values are aligned with organizational goals and values. Employee satisfaction and engagement is improved considerably by a strong EVP strategy. The employee value proposition is essentially a base for the employer brand. It helps build the internal and external perception of your brand.
Components of Employee Value Proposition
A strong EVP is a combination of various elements. These attributes determine how both employees and prospective candidates perceive the organization as an employer. The 5 key components of Employee Value Proposition as per Gartner are: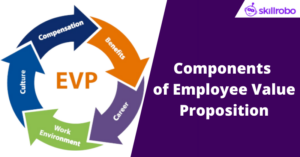 Compensation – The compensation and benefits given to employees is a key factor in employee retention. Timely appreciation of an employee's top performance by way of rewards and bonuses motivates them to perform even better. Fair and performance-based compensation is among the top HR practices. However, compensation alone may not be sufficient to retain employees. Providing training and development programs for employee career progress is also a way of appreciating their performance.
Work-life balance – Assisting employees to maintain a work-life balance is a way of providing benefits to employees. From paid time off to holidays to flexitime options and retirement plans – employers provide several options for maintaining a work-life balance. The kind of benefits that employees value the most are flexible work hours, the opportunity to work from home, and paid parental leave.
Stability – Career stability is paramount for employees. Employers must provide several opportunities to employees to build a stable career. Career stability stems from development and training programs designed as per the employee's skills and competencies. The HR department must install mentors and coaches whom employees can approach for career advice.
Work environment – Creating a conducive and inclusive work environment is effective in engaging employees positively. A positive work environment brings a certain level of autonomy and work-life balance. A rich employee experience at the workplace relates to three environments: physical space, technology, and culture.
Respect – Not just in the personal space, respect is important even in professional relationships. Positive professional relationships are built on respect. Providing employee support and building a team spirit is important to build an inclusive work environment. The company's culture reflects the core values and beliefs of the organization.
10 Employee Value Proposition Examples
To understand EVP better, let us consider employee value proposition examples. The list of best employee value proposition examples are listed below.
1. HubSpot – The tagline of HubSpot is "Your best work starts here". The benefits page of the company backs up the statement with a host of benefits like unlimited vacation, full remote work, parental leave, and sabbatical. They upkeep their promise to their employees by prioritizing work-life balance. A detailed document "HubSpot Culture Code" is provided to the employees to know about organizational priorities and how culture is implemented.
2. Nike – The value proposition of Nike "Win as a team" is a good EVP example. This sentiment transcends the company's benefits and work life at Nike. The company culture emphasizes innovation and team spirit. Employee benefits offered include fitness discounts, relocation discounts, retirement plans, and competitive pay.
3. Gartner – This is a good candidate value proposition example that implements all 5 pillars of EVP. Challenging work, talented people, limitless growth, community impact, and big rewards are part of Gartner's EVP. "Live well in all aspects of your life" is Gartner's EVP tagline.
4. LinkedIn – The trendy #LinkedIn life slogan encourages employees to post about the company's culture across the social media channel. The company presents several benefits like health, family, passion, and extras to all its employees. Employees also get a paid shut down at the end of the year during which the company closes for a week to celebrate.
5. PwC – A company-wide initiative "Be well, work well" was announced recently. The aim is to prioritize the well-being of PwC employees across physical, emotional, mental, and spiritual health dimensions.
6. Airbnb – Guided by the mission "Create a world where anyone can belong anywhere", the company builds its EVP on 4 principles namely, inclusivity, care, support, and innovation. Several benefits like travel-friendly benefits, paid volunteer time, and experiences credit are offered to Airbnb employees.
7. Starbucks – The careers page on the Starbucks website states that employees can expect to work for a "different kind of company". They consider all their employees as partners who share success. Rewards and benefits offered at Starbucks include in-store discounts, free Spotify Premium subscription, affiliate discounts, and support to partners who compete in sports at elite levels.
8. Canva – The EVP at Canva offers a wonderful culture and benefits, and a chance to contribute to a bigger cause. Other perks include free lunch and breakfast, clubs, and sports, relocation benefits, and free memberships to local clubs.
9. Shopify – Guided by strong values and purpose, empathetic leadership, and the desire to build a workplace where all employees feel they belong, Shopify has created a diverse and inclusive culture. Employees are allowed to work virtually anywhere, which lets them focus on core hours rather than commuting hours.
10. Merck – This is considered one of the best places to work, with accolades like Glassdoor's 2021 Employees Choice award. Benefits include parental leave, year-end shutdown days, flexible work arrangements, and a global recognition program.
Conclusion
"Happy employees – better business outcomes". The focus of HR policies is rapidly shifting to a people proposition from an employee proposition. Employee value proposition plays a crucial role in attracting top talent and retaining talent within the organization. The examples of employee value propositions discussed above reiterate the success driven by EVP for the organization. A solid EVP sure does attract top talent, but how does one hire top talent quickly and effectively? Employers looking to hire top talent quickly and effectively are adopting skill assessment software like SkillRobo. SkillRobo is an online talent assessment software that brings down hiring time while improving the quality of hires.
To explore SkillRobo, Sign Up for the free trial.
Some Interested Topics: How to Deal with Nepotism and Favoritism at Work